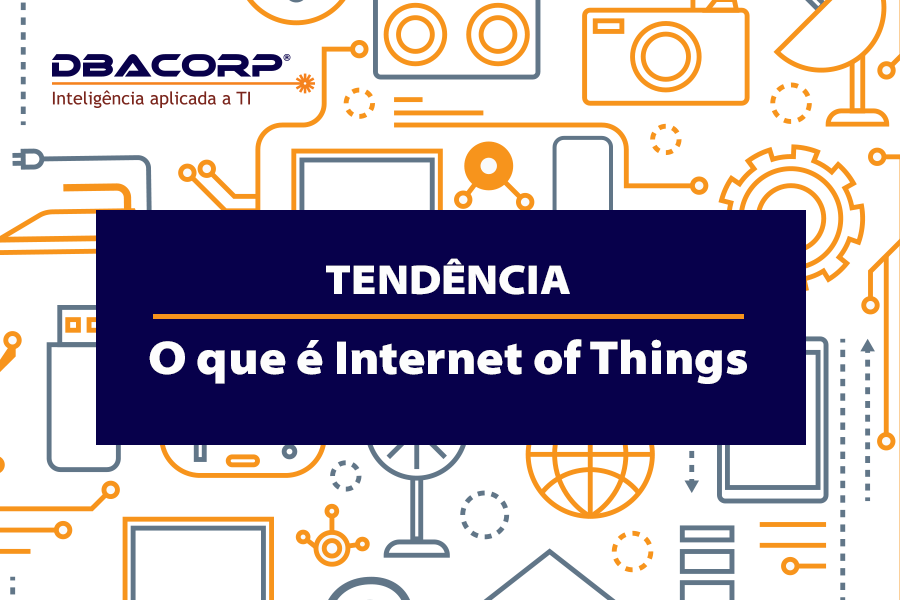 Tendência: o que é Internet of Things (IoT)?
A Internet of Things (IoT) está se tornando um tópico crescente nas conversas, tanto no local de trabalho quanto fora dele.
É um conceito que não apenas tem o potencial de impactar o modo como vivemos, mas também como trabalhamos.
Mas o que exatamente é a IoT e que impacto isso terá sobre as empresas?
Há muitas complexidades em torno da Internet of Things. Muitas conversas técnicas e relacionadas a políticas de segurança estão sendo realizadas, mas ainda é preciso deixar alguns conceitos básicos mais claros.
Abaixo, explicamos o que é a IoT, como ela funciona e como poderá impactar o seu trabalho e a TI em empresas de todos os setores.
Então, o que é a Internet of Things ou Internet das Coisas?
A internet está se tornando mais amplamente disponível. O custo da conexão está diminuindo, mais dispositivos estão sendo criados com recursos Wi-Fi e sensores embutidos. Além disso, os custos de tecnologia estão diminuindo e a o uso de smartphones aumentando rapidamente.
Todas essas coisas estão criando um ambiente perfeito para a IoT.
Simplificando, este é o conceito de basicamente conectar qualquer dispositivo eletrônico à Internet e entre si — daí o nome, que significa em português Internet das Coisas.
Isso inclui tudo, desde telefones celulares, cafeteiras, máquinas de lavar roupa, fones de ouvido, lâmpadas, dispositivos portáteis e quase tudo que você possa imaginar. Isso também se aplica a componentes de máquinas, por exemplo, um motor a jato de um avião ou a perfuração em uma plataforma de petróleo.
Basicamente, se o item possui um botão liga/desliga, as chances são de que ele pode fazer parte da IoT. Mas como isso afeta a Tecnologia da Informação nas empresas?

Como a IoT funciona nas empresas?
A Internet das Coisas está forçando o mundo empresarial a mudar. O simples ato de permitir que um produto se conecte ao smartphone de um consumidor pode aumentar significativamente o potencial de venda desse item.
Hoje, podemos conectar nossos telefones a nossos carros para fazer chamadas e ouvir música, podemos automatizar nossas finanças comerciais e até mesmo usar um aplicativo para fazer pedidos de refeições antes de chegarmos a um restaurante.
Essa crescente dependência tecnológica está forçando as empresas a repensar suas estratégias de marketing e a encontrar oportunidades para introduzir a IoT em seus produtos e serviços.
Uma das maneiras mais populares de as empresas utilizarem a Internet of Things é automatizar a grande maioria de suas tarefas.
Por exemplo, as empresas de logística podem usar o rastreamento em tempo real em sua frota para fornecer atualizações quase exatas com relação à localização de suas remessas. Esse aumento de automação combina bem com a experiência do cliente.
Os clientes de hoje querem coisas com ainda mais agilidade e a IoT está fazendo disso uma realidade.
Quais as principais tendências IoT para o futuro?
Segundo a IDC, a IoT passará por um enorme crescimento nos próximos anos em muitas áreas:
Nuvem. Dentro dos próximos cinco anos, mais de 90% de todos os dados da IoT serão hospedados em plataformas de provedores de serviços na nuvem, pois ela reduz a complexidade de suportar a "mistura de dados" de diversos dispositivos que a IoT traz;
Segurança. Os CIOs serão forçados a adotar novas políticas que contemplem possíveis violações provenientes de dispositivos IoT;
Produtividade. Até 2020, 30% das empresas usarão dados de produtos e ativos conectados à IoT para melhorar as taxas de sucesso da inovação de produtos e a produtividade organizacional, alcançando ganhos de até 25%.
Infraestrutura. Os datacenters e sistemas de gerenciamento adotarão rapidamente novos modelos de negócios para gerenciar a infraestrutura não tradicional e as categorias de dispositivos BYOD;
Diversificação. Hoje, mais de 50% da atividade de IoT é centrada em aplicativos de manufatura, transporte, cidade inteligente e consumidor, mas em 5 anos todas as indústrias terão implementado iniciativas de IoT;
Wearables. Até 2020, 40% dos wearables terão evoluído para uma alternativa aos smartphones tornando viável para o consumidor;
Inteligência de negócios. Até 2021, 75% das empresas com um ROI de IoT positivo usarão aplicativos de análise tática para reduzir os custos operacionais, mas os 25% que investirem estrategicamente em uma arquitetura de decisão (Business Intelligence) aumentarão sua participação nos lucros.
No geral, a Internet of Things é um enorme avanço no mundo dos negócios. É importante para qualquer empresa entender exatamente como essas novas tecnologias estão sendo utilizadas em seu setor. Isso pode abrir uma quantidade infinita de oportunidades para os futuros empreendimentos da empresa.
E você, o que espera das tendências IoT no futuro da sua empresa? Quer continuar aprendendo sobre como melhorar a gestão de TI na sua empresa? Dê uma olhada nos nossos materiais gratuitos!
322 Comments
Categorias